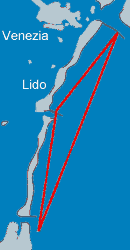 The
British team
, which left Malta on September 9th aboard the aircraft carrier 'Eagle', was represented by two Supermarine S.5s flown by Flight Lieutenant S.N. Webster and O.F. Worsley, a Gloster IVB flown by Kinkhead, and a Bristol-Crusader flown by Schofield. Representing Italy were de Bernardi, Ferrarin, Guasconi and Guazetti, all flying Macchi M-52s.
The United-States representative was Al Williams.
During tests on the 11th, Schofield made a bad landing and the aircraft was destroyed. On the 18th, Kinkhead in a Supermarine S.5 with Napier engine covered the circuit at the average speed of 523 km/h. Although this was a non official time, it was the first time a human being had exceeded 500 km/h.
This event was exploited by Italian leaders hoping to attract people to aviation. Posters, leaflets, propaganda, special trains from Pô valley cities and 50% discount fares on the rest of railway network were used to attract 250,000 spectators.
Bad sea conditions kept the race from beginning on Sunday the 25th. The race was held the following day starting in front of the Excelsior Palace.
Webster won the race, followed by Worsley ­ the other competitors gave up. In order to have more time to prepare, competitors asked that the next race be held in 1929.