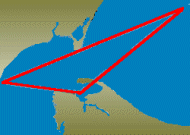 This contest was the first opportunity for the Americans to win the cup. Representatives were two Curtiss racer R3C-4s flown by Lts. Cuddihy and Tomlimson, a Curtiss Racer R3C-2 flown by Lt. Christian F. Schilt (USMC) and a Curtiss F6C-1'Hawk' in reserve.
The Italian team, directed by Muzio Macchi and engineer Castoldi, entered three Macchi M-39s, two with Fiat engines created by M. de Benedetto, the third was a Napier Lion engine. Propellers were furnished by Curtiss!. Pilots were Major Mario de Bernardi, Captain Arturo Ferrarin and Lieutenant Adriano Bacula.
The race took place in bad weather, on a 350 km long triangular circuit, consisting of 19 bends. The winner was de Bernardi followed by Schilt, Bacula and Tomlimson in the substitute aircraft.
This marked the last U.S.Navy participation in an international speed race.